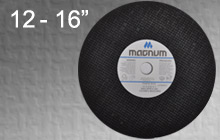 These economical wheels will out-perform those generic imported wheels on all counts. Precision manufacturing processes and quality materials are standard for all Magnum wheels, and these are no exception. Our attention to quality is the added ingredient that provides the long life of these wheels. They are balance tested to assure a consistency that you can count on. Don't be fooled by imported wheels that may cost a few cents less. Rely on Magnum quality for performance.

WHEEL GRADE A 36 TBF1
Ideal for general purpose cutting of angle & channel, metal studs, rebar & pipe.

WHEEL GRADE A 46 TBF1
Designed specifically for burr-free & burn-free cutting on tubing & light gauge channel.
Wheel Size

Max

Standard Grades & Part #

Std Pack

DIA x Thick x Arbor
RPM
A36TBF1
A46TBF1
Quantity
Weight
12 x 7/64 x 1
14 x 7/64 x 1
16 x 1/8 x 1
5100
4400
3600

3036
3038
3034


15
15
15

11lb
15lb
35lb
Caution: Center-reinforced wheels are designed for low power (up to 3 hp) portable chop saws. Their use on stationary saws may result in poor performance and rapid break-down of the wheel. These specially designed wheels should be used when:

1. The cutting plane is rigidly controlled, with no lateral stresses on the wheel.

2. The work-piece is securely clamped to prevent lateral movement during the cut.

3. The machine has adequate wheel guarding.