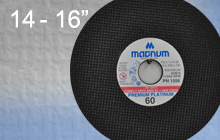 PLATINUM 30 WHEEL GRADE
Exceptional wheel life and superior cutting rates. Outstanding productivity on stainless steel, heat-sensitive alloys, titanium and other metals. Ideally suited for cutting steel, stainless steel tubing and structural shapes used in production and fabrication environments.

• 2 to 3 times the life of ceramic-alumina blended cut-off wheels!
• Up to 6 times the life of regular aluminum oxide cut-off wheels!


Wheel Size

Max

Platinum Grades & Part #

Std Pack

DIA x Thick x Arbor
RPM
XPA 30 TBF2
Quantity
Weight
14 x 3/32 x 1

4400

2514
15

15lb

16 x 1/8 x 1

3600

2516
15

24lb